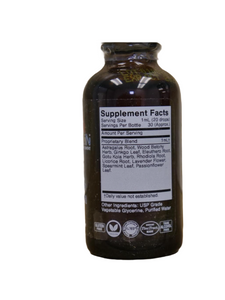 Customer Reviews
Wow
My overall experience went far beyond anything I could have imagined! The owner is very knowledgeable when it comes to organic herbs. She explained what would benefit my mom and I based on our individual needs. So no, this review is not about kids as one would expect. As a nurse and small business owner, my life is hectic and coffee can only do so much. I honestly could not believe how well the Focus & Attention supplement worked for me. My mom has lupus. I got the other two products for her. While she still struggles with this autoimmune disease, the flare ups are much more tolerable. Just for this reason alone, I will forever be grateful to this company. *I understand the dosage is for children. I did the dosage calculations for my mom and I. If any adults plan to try this product after reading this review, contact your primary care physician first for recommended dosages.
08/19/2021
Dakota

United States
Amazing!
So my son was diagnosed with ADHD and hyperfocus. He had been put on Ritalin and some others I can think of but it was entirely TOO STRONG. He was like a zombie. So I decided to try these focus and attention drops and he has not had any issues with behavior in school. He's been getting awards for behavior and all. Highly recommend!
04/19/2021
Kendranesha

United States
Elderberry
My kids overall experience with this product has been phenomenal!! I will most definitely continue to support!!
03/21/2021
Katie

United States
Amazing product
My overall experience with this product was amazing ! I couldn't have asked for anything bette than what I have witnessed now . My son has adhd and as a parent it's hard for a parent to find anything that's natural and vegan these days . I didn't want my son on any meds that would have him lie a zombie so as I was telling a friend about my son and how his teachers seem to thing that he has a behavioral problem . I couldn't get through to the teachers and tell them that he isn't a child that has behavior problems and that he is a really good kid . After talking to a friend about what I was going through she insisted that I try the focus and attention drops . l stared the drops and with in a week the teachers stated to see a difference in his behavior . I didn't have to make any more trips to the school or have any more meetings about my sons behavior . My sons is paying attention and keeping still in class the entire school day . I'm so amazed at these drops . They have helped me so much and I couldn't have asked for anything else . It makes my son and I Livelihood so much better . Thank you so much for having a big relief on us !